NEWS & EVENTS 2021
CanIRON Virtual Edition
June 04-04
Hosted by the Manitoba Blacksmith Guild
CanIRON
Nesscapes Mini Breaks
July 17 or 24
Forge a Coat Hook in in 3 Hours
Ness Creek, SK
Nesscapes - Ness Creek
forestART
July 26-29
Introduction to Blacksmithing with M. Craig Campbell
Handmade Paper with Louisa Ferguson
Digital Photography with Ron Cooley
Mixed Media with Miranda Jones
Ness Creek, SK
forestART - Ness Creek
About M. Craig Campbell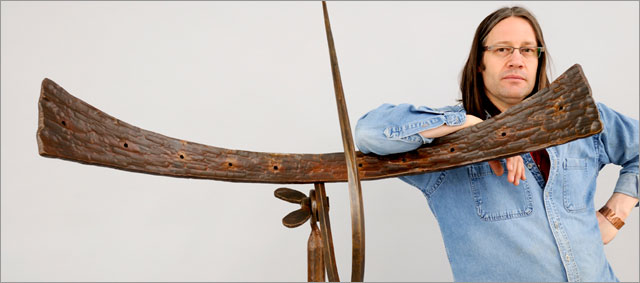 Here is what my wife said to me one day:
You create because you have to create. You like the feel of metal, you like the potential in metal. You like simplicity in your designs because the metal itself has something to say. You like the noise, the smells, the fire, and the weight of what you do. You like to open the doors and let people wander in. You like to talk about what you do. You never tire of telling people about the material, techniques, joinery and finishes. You like to teach. You want to learn.
Blacksmithing is my third career: heavy equipment operator, office work and now, artistic blacksmithing. I took up the hammer twenty years ago as an escape from the chains of deskwork and it slowly overtook all else. I enjoy the challenge of one-of-a-kind pieces and exploring a theme via a sculpture series. The most fascinating aspects of blacksmithing are the warm and wonderful people I meet and the endless learning potential. It has allowed me to meet and people from local and far that have enriched my work and my life. Blacksmiths worldwide are a friendly lot and my craft has led me around North America and across oceans to visit, work with and learn from others.
Artistic blacksmithing is a recent art form. Traditional blacksmithing was dying a slow death through the mid 20th Century. In the 1970s a few in the United States sought to preserve and rebirth the craft as an art form. This movement has spread across the globe. With the support of historic museums, arts organizations and dedicated blacksmiths everywhere, this most ancient of crafts has finally arrived.
The future, mine and that of the artist blacksmith, looks very bright indeed.